Social Media Marketing + Creative Manager — Here's what I worked on Oct. 2018 - Sept. 2020
Role + Responsibilities
I led social media strategy and content production for the revival and relaunch of the Palm brand, and launched first generation of new product and piloted brand messaging.
My focus was on building the Palm brand primarily through our social media content. I also oversaw creative services and managed photographers, videographers, and other creatives we worked with.
Working on a small marketing team, I also worked cross-functionally with our Head of PR, our Marketing Director, and Palm co-founders on larger marketing initiatives and campaign strategies.
Company Context
Palm is a minimal, extremely tiny cellular device, about the size of a credit card. Palm was designed to help people be less absorbed in their screens, without entirely sacrificing their connectivity.
Palm initially launched as a "companion" device— a tiny smartphone that would share the same phone number as your main phone, so you could take Palm with you, leave your phone (and all its distractions) behind— but still have connectivity to your essential apps, calls, and texts. It sat somewhere between a full fledged smartphone and a wearable like Apple Watch.
At the time I joined, Palm was a pre-series A company coming out of stealth with seed investments from Stephen Curry's SC30 Inc., multinational electronics company TCL, and Verizon.
Instagram is Palm's primary social channel. Posts here mainly focus on showing the unique size and form factor of Palm, but I also mixed in lifestyle images that reflected Palm's #LifeMode ethos of disconnecting and getting back to life outside your screen.

Responsibilities
– Craft social strategy.
– Maintain social content calendar in line with larger marketing content calendar.
– Write copy for all posts.
– Create visual content as needed (shooting photos, designing graphics, editing video).
– Manage and guide 3rd party content creators via briefs and art direction.
– Measure, analyze, and report on content monthly.
Results
Grew following to over 55,000
Hit monthly engagement rates between 2.4% and 3.3%
Twitter is where Palm connects primarily to its community of tech reviewers and early adopters. I often leaned into a more human, irreverent voice on this channel—incorporating gifs and popular Twitter memes frequently, to increase engagement and build a sense of community.

Responsibilities:
– Write copy for all tweets.
– Engaged with community daily.
– Monitored keywords for social listening.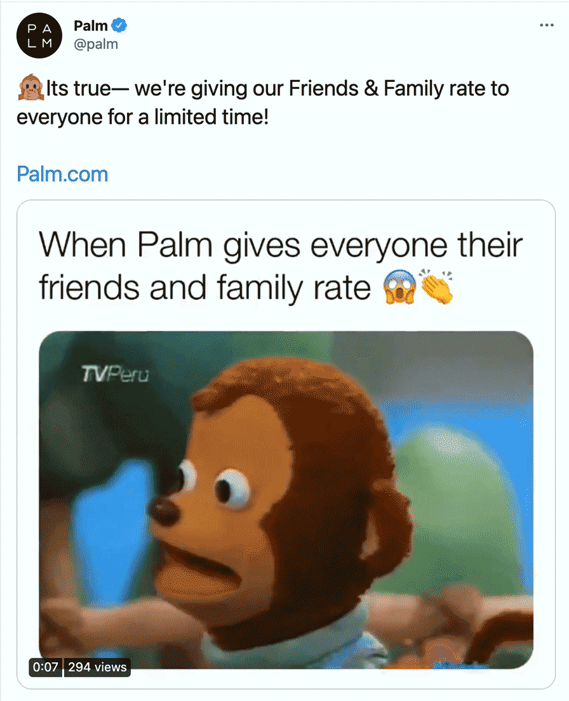 Below: I also leveraged Japanese cultural knowledge and language fluency to launch Palm's Japan market expansion with native customer interactions across our social media channels:
We used Instagram Stories as a way to give product updates, promote sales, talk about our #LifeMode ethos of digital wellbeing, share customer reviews, and more. Because of Stories' unique linkable swipe-up feature, we were able to leverage this channel to drive site traffic for specific campaigns and promotions.


Responsibilities:
- Strategize and concept Story content.
- Storyboard and create unique video and photo content for Stories.
- Work with partners on Story concepts and execution (ex. working with Stephen Curry's team to have Stephen tag and post us to announce important updates).